Handmade in the UK by our skilled craftsmen

Made Using Finest Swedish Redwood

Fast delivery throughout the UK & Europe
Public Sector
Make the most of the great British weather with our quality selection of garden furniture. We manufacture and sell the finest picnic benches and outdoor dining sets in the UK. Take a look at our benches today.
Domestic Picnic Tables
Brits love a good lounge in the garden. The only thing that can spoil a sunny day is a badly designed and poorly maintained picnic bench. At MG Timber, we can ensure it is happy hour every day with our handcrafted picnic tables.
Trade Supply
 We have built a solid reputation and customer base on our quality products and service. As well as serving the public sector and public houses, we can also deal with the trade too. Contact us today for all your bench needs.
DOMESTIC AND TRADE PICNIC TABLES & GARDEN FURNITURE
Whether you are a homeowner looking at making your garden more homely with a quality garden bench or a landlord wanting to make your beer garden more enticing with a fantastic array of pub benches, MG Timber has the best outdoor furniture for you. Made from the finest Swedish Redwood, our garden benches and picnic tables are carefully constructed and pressure treated to protect your products from the elements. Known for its sturdiness and durability, our treated outdoor furniture can withstand everything the great British weather has to throw at them.
Wooden Dining Sets
Relax in style with our fine selection of outdoor wooden dining sets. Made using the finest Swedish Redwood and manufactured at our West Midlands' base, our collection of wooden patio sets will wow your guests.
Pub Benches
MG Timber can supply you with the finest range of pub benches in the UK. Whether you are looking for a traditional pub garden table, an A-frame picnic table or a free standing wooden pub bench, we have you covered.
Childrens Picnic Table
Give your children somewhere comfortable to sit with our range of kids picnic tables. Ideal for schools, nurseries and gardens, our children picnic benches are made from the finest timber and are available across the UK.
Our Google Customer Reviews
Fantastic picnic table! Firstly, it was delivered exactly when they said it would be, and was easy to assemble. I was pleasantly surprised to find the legs, table top and seat supports were all bolted together, not screwed. This, together with the 45mm planks makes an incredibly sturdy table. I've treated it with 2 coats of clear wood preserver and 2 coats of furniture oil. Very impressed, and it's nice to get something that exceeds all expectations.

Zoe Constable

I purchased a 6ft picnic bench from MG Timber Products recently.Our bridge club had bought two from them and everyone admired their quality.
The bench arrived with full instructions for easy assembly and was delivered by an extremely helpful delivery person.The timber is of a high quality and very solid and very well finished.
I purchase a care kit that was recommenedbyMG timbers,after a very helpful phone call to them,to protect the table against the weather and spills.
Altogether,I am delighted with the purchase and service given,and I am sure it will give us years of pleasure.

John Wragg

Best company I've dealt with in years. Efficient, communicative and the quality was superb. They delivered exactly when promised (within a tight time frame). We had one small issue, which was addressed immediately. Highly, highly recommended. Wish all companies were half as good!

Rae Brogan

We decided to create a new BBQ area in part of our garden and thought a picnic bench would be ideal. After some research, we decided to buy a 5ft picnic table from MG Timber Products Ltd. We have been delighted, not only with the table, but their communication, keeping us in touch all the way.
When the table arrived, we were extremely impressed with its superb quality and workmanship. We decided to order, with the option of curved seat corners, the seats being wider than a lot of other picnic tables, making them more comfortable to sit on.
We found the "YouTube" video suggested very helpful, with the assembly, together with the written instructions, but you definitely need a power driver. Just a couple of things - it would be helpful bearing in mind the length of the screws, if the holes were drilled out slightly deeper and maybe use conventional screw heads, unlike the unusual screw heads supplied - luckily we had the appropriate screw driver bit.

Patsy Thomas

Bought a garden chair. After comparing MG Timber to a few other companies online I decided to chose them mainly because the price was the best. Really pleased I did. The chair is really easy to assemble thanks to predrilled holes and clear instructions, I was also impressed by the quality of the wood. The assembled chair feels much more sturdy than my last chair, like it will last a good few years. Service is really good and delivered to my door when they said. All round, very pleaded and would definitely use MG Timber again

Darren Stretch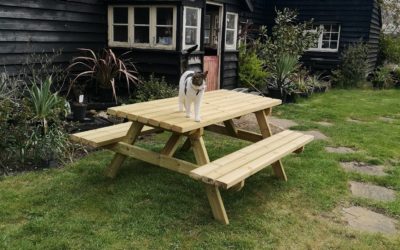 You probably consider your pet as your best friend, and if you don't have children, you probably feel the same lev...