Handmade in the UK BY our skilled craftsmen

Made Using Finest Swedish Redwood

fast delivery throughout the UK & Europe
Why opt for wooden garden furniture?
Consumers have several options on how they wish to furnish their garden. They can opt for steel or even go for plastic, but wood is the best material by far. Steel benches, for example, can be incredibly uncomfortable to sit on. In the winter they are freezing cold and can be burning hot in the summer. Meanwhile, plastic furniture is not pleasing to the eye in the slightest, can be easily broken and is also horrific for the environment.
Don't let a rotten or poorly maintained picnic table ruin the outdoors for you. At MG Timber, we can supply you with a wooden picnic table that's strong, durable and designed to withstand the elements.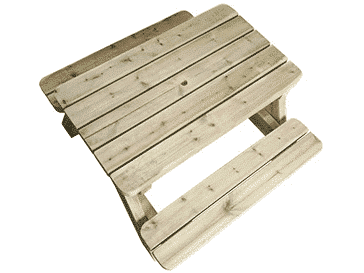 MG Timber supply the finest range of kids picnic tables. Our children's picnic tables are a smaller version of our popular pub style picnic bench and are created from strong and resilient Swedish redwood.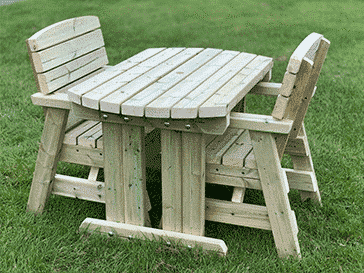 Bring the family together with wooden garden dining sets manufactured by MG Timber. Our outdoor dining table and chairs are handmade in the heart of the West Midlands using only the finest Swedish Redwood.
Garden Coffee Tables & Chairs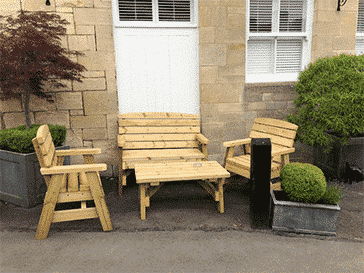 MG Timber can provide you with the finest coffee tables & chairs on the internet. Made from Swedish redwood, our heavy-duty chairs and coffee benches have been specifically designed for maximum strength.
Timber garden furniture also looks great!!
You just can't compare steel and plastic benches to wood. It's like comparing chalk and cheese. Not only is Swedish redwood visibly stunning, it is also highly comfortable to sit on and ages gracefully. Wood is by far the most superior material out there and should be your one and only choice when looking at improving your garden furniture, especially due to its environmental benefits too.
Of course, wood is more expensive than plastic and metal, but is far more economical in the long run as wood products, when properly treated and maintained, will look great for years.
At MG Timber, our domestic items are designed to last and prove value for money. Whether you are a proud parent looking for a kids picnic bench for your children or a homeowner looking to bring your garden to life, you have come to the right place.
The weather is changing, and our attention is promptly turning to staying warm in the winter months. One of the most frequently asked questions we receive is, how do you stack logs in a log store?  Stacking logs in a log store is an excellent idea because it keeps...

Pubs and restaurants have suffered a massive blow due to the coronavirus crisis. However, pubs, bars and restaurants are serving customers again while taking careful considerations of the best ways to keep customers happy while limiting the risks of spreading the...

The current coronavirus has forced schools across the UK to close their doors and there's a strong suggestion they may not open again until September at the earliest. Five months off school! The younger version of myself would be ecstatic at that prospect, but now...

Outdoor entertaining ideas Bringing family and friends together to enjoy some fun times in the garden is something we all love to do. Make the most of those great summer days or wrap up and enjoy the cooler nights with these outdoor entertaining ideas. Garden party...

MG Timber takes great pride in producing the finest garden furniture around. Our picnic tables, outdoor dining sets and pub benches are the best money can buy. However, our products are only as good as the materials we use. Fortunately, we deal with a local supplier...

Your outdoor garden furniture can be the centre of your outdoor living and the hosting location for barbecues and drinks with family and friends. Your garden furniture should allow you to soak up the sunshine and relax. However, exposure to the elements, including...

MG Timber is the go-to place for top quality wooden garden furniture in Bilston, Wolverhampton and the West Midlands. But our reputation is growing fast and it's growing internationally. We have successfully loaded and dispatched our first shipping container of 240...

There are so many different types of wood that can be used to create picnic tables, pub benches, rocking chairs and coffee tables. Some companies insist on using cedar. Some swear by acacia, while others will opt for shorea, teak or oak. At MG Timber, we pride...

The Beatles told us "All You Need Is Love". Scottish pop band Wet Wet Wet revealed that "Love Is All Around" while the legendary rocker Meatloaf admitted "I Would Do Anything For Love, But I Won't Do That". While we may never know exactly what Meatloaf was not...