Why opt for wooden garden furniture?
Consumers have several options on how they wish to furnish their garden. They can opt for steel or even go for plastic, but wood is the best material by far. Steel benches, for example, can be incredibly uncomfortable to sit on. In the winter they are freezing cold and can be burning hot in the summer. Meanwhile, plastic furniture is not pleasing to the eye in the slightest, can be easily broken and is also horrific for the environment.
Don't let a rotten or poorly maintained picnic table ruin the outdoors for you. At MG Timber, we can supply you with a wooden picnic table that's strong, durable and designed to withstand the elements.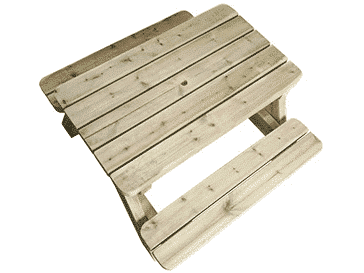 MG Timber supply the finest range of kids picnic tables. Our children's picnic tables are a smaller version of our popular pub style picnic bench and are created from strong and resilient Swedish redwood.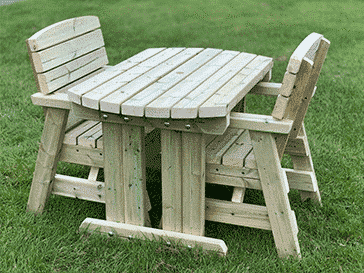 Bring the family together with wooden garden dining sets manufactured by MG Timber. Our outdoor dining table and chairs are handmade in the heart of the West Midlands using only the finest Swedish Redwood.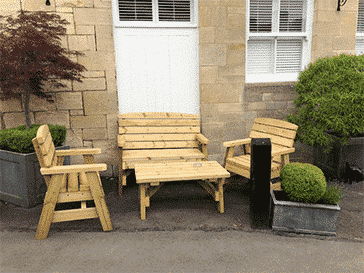 MG Timber can provide you with the finest coffee tables & chairs on the internet. Made from Swedish redwood, our heavy-duty chairs and coffee benches have been specifically designed for maximum strength.
Timber garden furniture also looks great!!
You just can't compare steel and plastic benches to wood. It's like comparing chalk and cheese. Not only is Swedish redwood visibly stunning, it is also highly comfortable to sit on and ages gracefully. Wood is by far the most superior material out there and should be your one and only choice when looking at improving your garden furniture, especially due to its environmental benefits too.
Of course, wood is more expensive than plastic and metal, but is far more economical in the long run as wood products, when properly treated and maintained, will look great for years.
At MG Timber, our domestic items are designed to last and prove value for money. Whether you are a proud parent looking for a kids picnic bench for your children or a homeowner looking to bring your garden to life, you have come to the right place.
Our Latest News & Updates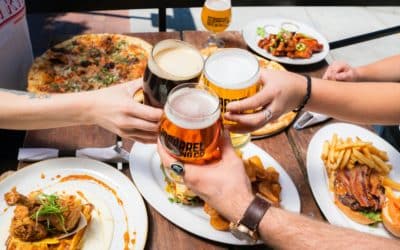 As the warm weather approaches, it is time to start thinking about your outdoor space. Outdoor areas, decking and patios are an extension of your business. Whether you are extending your current offering, creating a new space, or dusting down the old. Having an...
read more