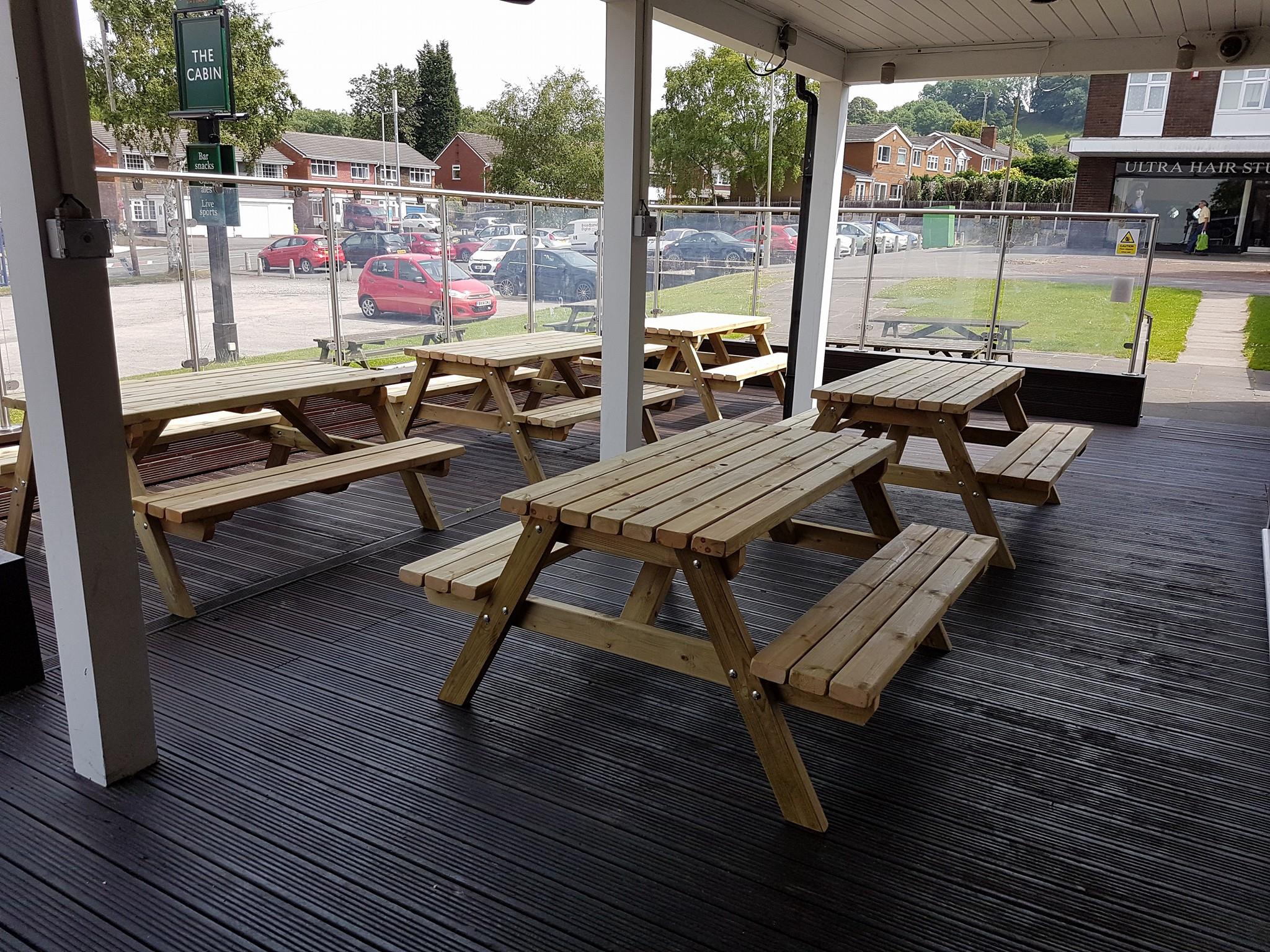 Pubs and restaurants have suffered a massive blow due to the coronavirus crisis. However, pubs, bars and restaurants are serving customers again while taking careful considerations of the best ways to keep customers happy while limiting the risks of spreading the virus. 
Foremost, the spacing of seating is an essential element of the ongoing battle, as we recognise that coughs and sneezes are one of the main ways the virus jumps from one person to another. Secondly, pub picnic tables and benches need to be easy and quick to clean, reducing the risk of surface contamination between seated parties. 
How our high-quality picnic tables improve social distancing and improve cleaning
Here we have three reasons why you should choose Swedish redwood furniture from MG Timber. 
Spacing: High-quality picnic tables could be a godsend for pubs and restaurants. You can position them carefully to facilitate social distancing measures at pubs and bars. The current advice is for picnic benches and tables to be set no closer than one metre together, and preferably spaced two metres apart or more. 
If you choose tables or chairs from MG Timber where the seat is moveable, you should space them further apart to give extra room as guests sit or stand. Pubs and restaurants are also encouraged to space tables, so there is plenty of room for staff to move safely between tables. This will help servers with table service, which is preferable because it avoids queuing at the bar. 
Hygiene: Our high-quality pub picnic tables and chairs and made from highly durable Swedish redwood timber. The Swedish redwood we use to make beer garden furniture has a smooth surface. A smooth, non-porous surface is easier to clean and will help you maintain high hygiene standards. The grain looks great, and your pub or restaurant guests will appreciate their time spent drinking and eating at a table with a superior finish. 
Durability: If your outdoor furniture is not in a good state of repair, it is time to replace it with a good quality wooden replacement that makes it easy to implement effective infection control measures and will last for years to come. Our Swedish redwood pub furniture is naturally resistant to moisture, decay, and insects. The timber is one of the most robust materials for constructing wooden tables and benches and can withstand a tremendous amount of weight. 
Ice cold beer served safely across the UK
The British summertime wouldn't be the same without the beer garden or outdoor restaurant. Our skilled craftsmen are ready to create free-standing furniture to meet your needs, whether that is a walk-in pub bench, traditional pub-style bench, or a-frame picnic table. 
We will help you improve your seating flexibility to maximise the outdoor space you have. You can purchase benches of all shapes and sizes, allowing you to serve different groups and family sizes. These encourage people to sit rather than stand, minimising contact, and interactions with other groups. 
Contact MG Timber today to find out more about our beer tables and bench sets, bulk order packages, and wheelchair accessible picnic tables on 07899306359 or email [email protected]